Thorough Improvement of Mass Production Quality with Front Loading
●Flow of New Product Mass Production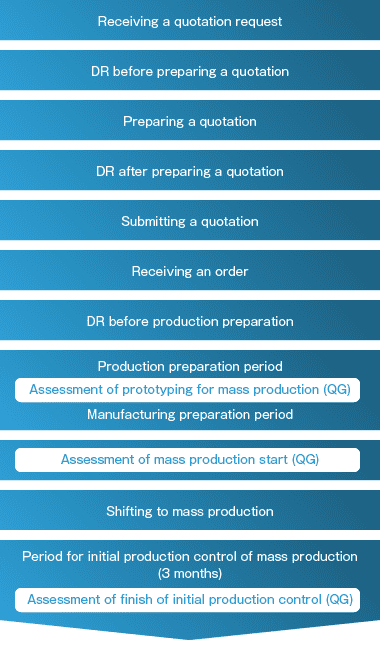 To secure absolute quality up to mass production, METALART has design review (DR) and quality gate (QG) processes, and has also acquired ISO9001 certification for global standard quality assurance. We hold a quality meeting every morning to share problems in the field, and quality information from customers, and to improve quality with our motto: "Immediate solution".
Complete Quality Assurance by Image Inspection and Automatic Measurement
We adopt image inspection using a high-precision 3D scanner for sampling inspection in the forging process, to find dimensional defects which are very difficult to detect.
We also adopt automatic measurement and high-precision measuring equipment in the machining process where precision in units of one micron must be guaranteed, to achieve 100% complete quality assurance.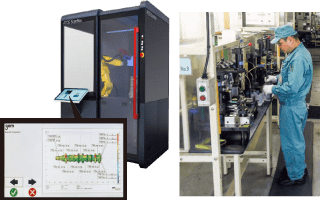 Reliability through Assured Traceability
Assured traceability is a mandatory requirement for a manufacturing company to offer a guarantee of quality. Our company makes use of our own production control system, which centrally manages identification tags attached to all the containers. In addition, starting recently, we print a two-dimensional code directly onto the products which are parts of the heart of automotive transmissions, for further improvement in traceability.