Engine Parts
●Crankshafts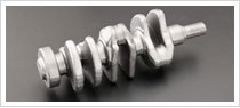 ●Connecting rods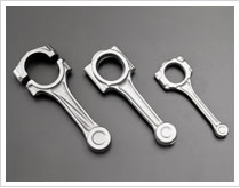 We have produced hot forging engine parts such as crankshafts and connecting rods, which have complex shapes and are highly challenging. We have achieved an impressive reputation and high reliability with our users.

Our own forging technologies, the digital engineering and all-out quality control, enable us to offer the manufacture of products in the forefront of weight saving, high in accuracy, cost competitive, and quickly deliverable.
Precision Forged Gears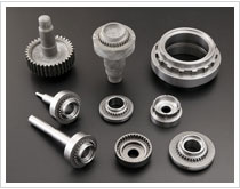 We are noted, both at home and abroad, as a pioneer in the gear forging business. We manufacture precision forged gears in the integrated manufacturing system, from forging to machining, by using diverse forging processes such as cold forging, warm forging and duplex forging, and offer cost-competitive gear manufacture to gain high reputation and reliability from our customers.
Our forged gears are used in a variety of fields, such as transmission gears and planetary gears for automobiles, and actuation gears and differential gears for construction machinery.
CVT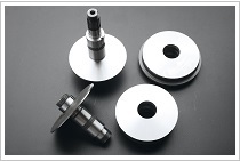 With our outstanding precision forging technologies and machining technology, we provide competitive products through the integrated manufacturing system from forging to turning, gear cutting, piercing, heat treatment, grinding and realizing competitive manufacture.
Manual Transmission (MT) Gears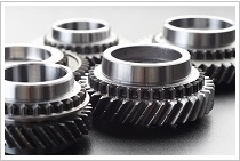 We have achieved high machining accuracy and low costs by manufacturing with our integrated manufacturing system in a plant from precision forging, blanking, gear cutting, heat treatment, grinding, and until finished products.
Automatic Transmission (AT) Parts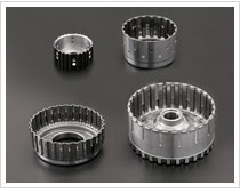 Flow forming, categorized as sequential forming, can efficiently manufacture thin-walled parts with tooth profiles. In this process, materials have local pressure applied to allow flow while being rotated; and then they undergo wall thickness increasing and decreasing processes, and a bending process.
Our technology in this process, allowing the formation of inner and outer teeth at the same time, has widened the possibility of new plastic forming based on innovatively enhanced productivity.
Also, as a pre-material for flow forming, using a forged material enables the manufacture of single solid parts which, in the past, had to comprise two to three components. For example, it is now possible to form a part with a thick-walled inner boss, which was impossible by plate forming.
Track Links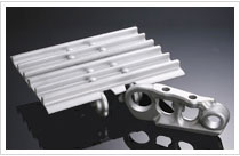 We can offer the manufacture of products at an extra low cost. This is accomplished by the merger of the 3,500 ton automatic press with world-class high pressing speed, and our production technology which can fully utilize the capability of the press. Also, our integrated manufacturing system from forging to heat treatment, and from machining to assembly and coating, makes possible our extra-low-cost production.
Other parts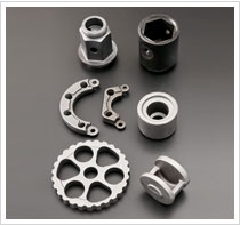 Our special forging technologies and various kinds of forging equipment enable us to meet customers' requirements for odd-form components which are highly challenging.
Also, we can make fine-tuned responses by performing small-lot production of various types of parts. We can accept your order for parts up to an individual weight of 200 kg.