The process of forming metal to desired shapes includes forging, casting, press working and powder metallurgy. Metal forming methods are the processes of forming all the shapes which support this civilized society.

Among them, "forging" is a process in which metal materials are hammered or pressed into required shapes.
Compared to other methods of forming, the forging process makes it possible to manufacture products which have high toughness. This characteristic makes forged products tougher, which reduces the likelihood of impact fracture.
Although we do not have many chances to see forging products usually, the Japanese froging technologies and productivities are at the world-class level. It is not too much to say that our supply of high-quality and low-cost forgings enables forging users to produce world-famous automobiles and construction machinery.
We at METALART are proud of being engaged in such forging, and playing our part in supporting Japanese society.

[The features of forging parts]
- The grain flow is formed along with the product shape and it strengthen the product.
- Through the pressure involved in the process, the structure of the product is strongly integrated, without internal defects.
- Machining process can be omitted or reduced.
- Because a product can be lightend by thinning the thicness of the metal with the same strength, no usuless material happens.
What is Grain Flow?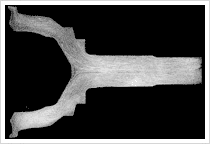 It is the grain flow formed on sections of a part which symbolize the strength of a part.
As trees put on annual growth rings, forgings retain the grain flow following their contours. This provides high strength, with good durability and impact values. Forgings are, therefore, used for critical parts when safety is required.

Forgings near at Hand

Process from Forging to Shipment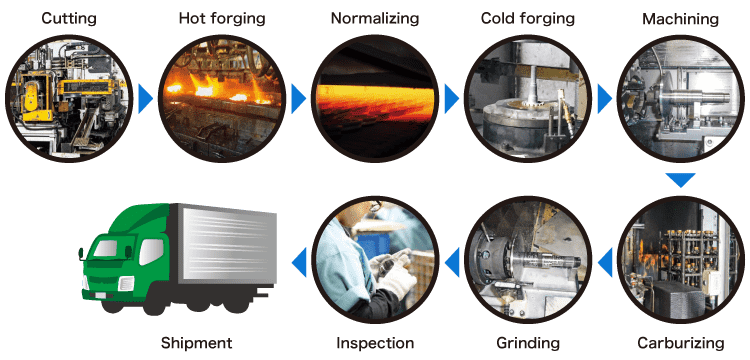 Video Showing Forging Example (Hot Forging)